Description
2016 Topps Premier Gold – Ambiance
#A-14 bet365 STADIUM
Representative Image – Select
Specific Item
above to see image of actual item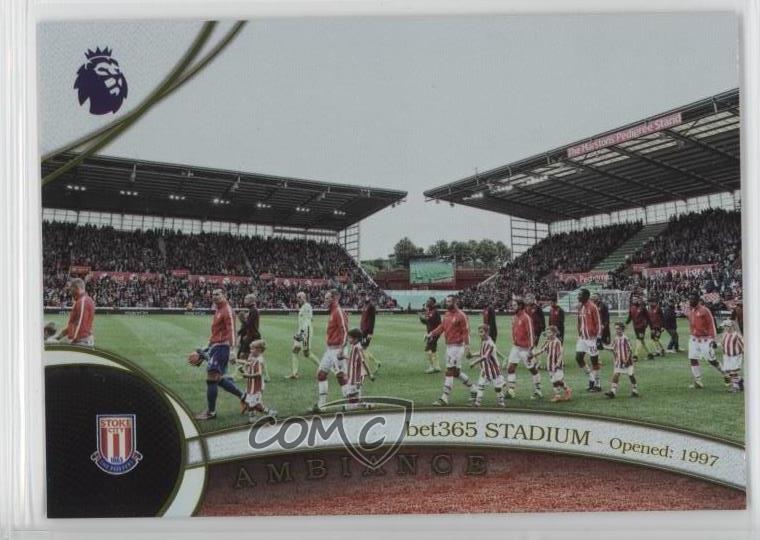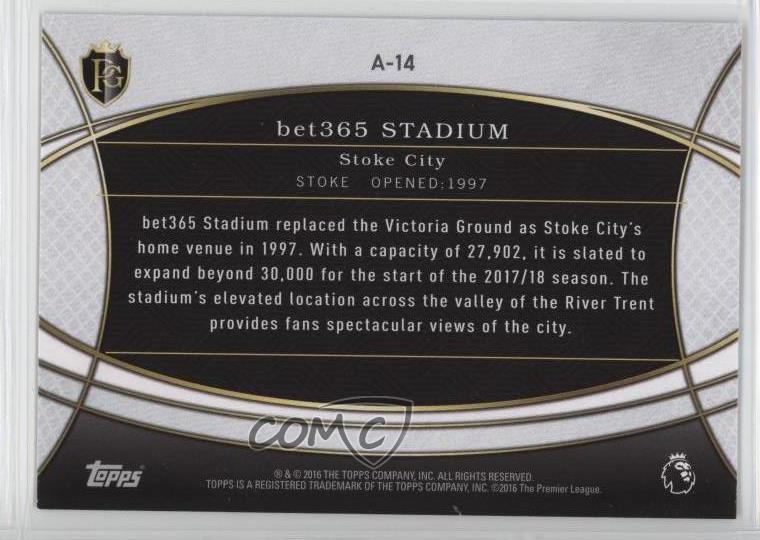 Representative Image – Select
Specific Item
above to see image of actual item
COMC Item: 41108571
– Soccer Card
– Featuring the Stoke City
– Featuring bet365 STADIUM
Search for more: 2016 Topps Premier Gold

Search for more: 2016 Topps Premier Gold – Ambiance

FAQ

Q: Do you offer combined shipping?
A: We offer combined shipping for domestic shipments (US only). Add each item you wish to purchase to your eBay Shopping Cart by clicking "Add to cart". After all items you wish to purchase are in your cart, go to your eBay Shopping Cart and click "Proceed to checkout". You will automatically be charged just $0.25 for each additional item.

International shipping fees are set by eBay through the Global Shipping Program. Combined International Shipping is available for an additional charge. Please add the items to your Shopping Cart to see your total shipping fees.

Q: Is that a stock photo?
A: No! The image in the Description section is a representative example image. Please click on the image at the top of the listing to zoom in on the images of the actual item selected.
Q: What does the "0s5" in the Specific Item dropdown mean?
A: At COMC, we scan the front and back of every item that is consigned with us. The "0s5" helps us differentiate the listings in order to ensure you get the actual item pictured.
Every consignor is assigned a code. All listings with "0s5" are owned by the same COMC consignor.
Search for more listings from COMC consignor 0s5
About Us

Located in Redmond, Washington, COMC (Check out My Cards) is the leading online marketplace for trading card singles. We currently house more than 17 million cards, each listed for sale with front and back images of the actual card.
If you would like more information about how we can help you consign your items on eBay, please contact us through eBay messaging.
COMC — "The Safe & Easy Way to Buy & Sell"
Shipping

Domestic Shipping Options:
– USPS First Class
– USPS Priority
– USPS Express
Combined Domestic Shipping is just $0.25 for each additional item!
International Shipping Options:
– eBay Global Shipping Program
International Shipping fees are set by eBay through the Global Shipping Program. Combined International Shipping is available for an additional charge. Please add the items to your Shopping Cart to see your total shipping fees.
Returns

Buying with COMC means Satisfaction Guaranteed!
We offer a safe place for people to buy cards without having to worry about getting a bum deal. Before we list cards consigned to COMC, we:
-Decline counterfeit cards
-Provide condition notes for modern cards if they are in less than Near Mint-Mint condition
-Provide condition ranges for vintage cards into the ranges of Poor, Poor to Fair, and Good to VG/EX; cards without a condition range are in EX or better condition unless noted
-Note any card that appears to be altered
-Scan the front and back of every consigned card; stock images are used in some cases and are noted as such
If you are ever unsatisfied with a card you receive from COMC, let us know and return your purchase, postmarked within 30 days of receipt, and we will issue a full refund. We do not charge restocking fees.
Because we provide actual images of the front and back of each consigned item listed for sale, we encourage you to view the 4x zoomed image of the item to verify its condition prior to purchase, avoiding you the hassle of requesting a return.
All returns will be inspected before we issue your refund. Returns must be accompanied by the original packaging and the Return Packing Slip. Refunds will be issued for the purchase price of the item(s) returned. We recommend you insure the item when shipping. All return packages must be shipped using a service that tracks packages, such as FedEx, UPS or USPS (ask for services that have tracking options). Shipping Costs are nonrefundable unless the error lies with how the item was listed. We cannot assume responsibility for lost shipments.
All returns should be sent to:
COMC
C/O – Returns
6727 – 185th Ave NE
Redmond, WA 98052
United States
Please allow a minimum of 6 business days for us to receive, process your return, and issue a refund. You will be notified once we've processed the returned item(s). Refunds are issued in the same form of payment as the original purchase.
Exchanges:
COMC does not offer an exchange policy at this time. Instead, we ask that you purchase the new item and return the unwanted item. You may return a product within 30 days of receiving your item. Please see our Return Policy above.
Payment

We only accept payment via U.S. PayPal accounts. PayPal allows you to pay using a major credit card or direct transfer from your bank accounts.
We are legally required to collect sales tax in those states and localities where we maintain a physical presence (nexus). The applicable amount of sales tax charged to an order will be calculated based on the shipment destination's state and local sales tax laws.
Thank you for shopping with COMC on eBay!
Last Modified: 2/11/2019 12:04:55 PM PDT